Great article! Thank you for sharing, Estelle!
About 1 in 54 children worldwide has Autism Spectrum Disorder (ASD), so it's not surprising app stores are filled with products marketed specifically for them. However, I found many autism apps are difficult to use, overstimulating, or even riddled with loud and inappropriate ads. Using them could be extremely frustrating to your kids rather than provide the developmental support you're looking for.
Since autism usually causes difficulties with speaking, socializing, processing emotions, coping with stimuli, and more, you need an app that takes into account all challenges. That's why I compiled a list of 20 autism apps that aren't just an educational resource — they're also gentle and engaging for sensitive users! As these apps were created with young autistic users in mind, your kids won't experience sensory overload when using them, no matter how old they are. That being said, it's always a good idea to speak to your child's doctor or qualified professional if you need a more serious intervention. Don't forget to bookmark this page so you can come back and review my latest additions to this page in the future.
Best Apps for Kids With Autism in 2022 by Device Type
Best Autism Apps You Should Try on iPhones and iPads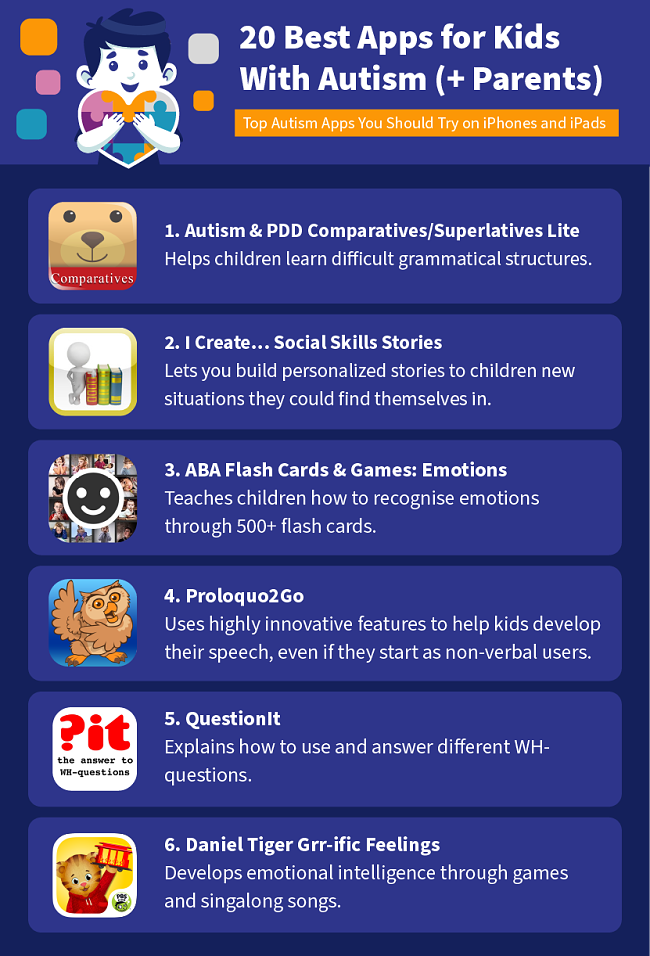 1. Autism & PDD Comparatives/Superlatives Lite — Helps Children Learn Grammar With Buddy Bear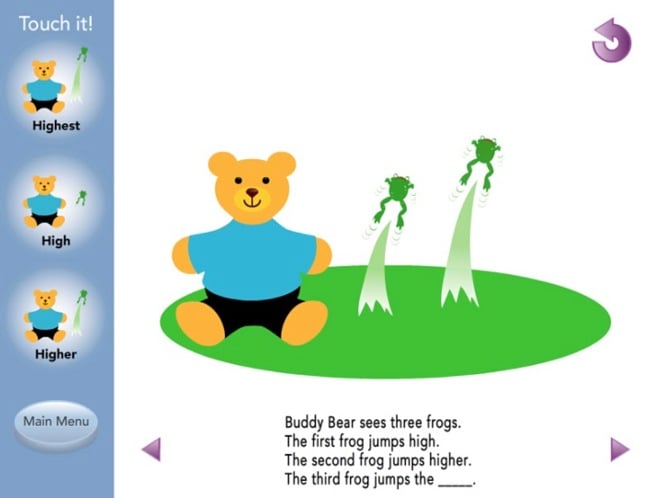 Comparatives and superlatives are integral parts of our language that let us compare things (like "big-bigger-biggest"). The concept behind them can be tricky to grasp, but Buddy Bear is there to help children on the spectrum learn these difficult grammatical structures. Based on popular storybooks, the app features 5 simple stories that show Buddy Bear in different situations, like petting dogs or seeing stars. I enjoyed watching the bear interact with various objects as the narrator calmly described what was happening. At the end of a scene, your child will be asked to answer a question by choosing one of the answers displayed on the screen. As each storyline explores different descriptive vocabulary, your child won't get bored following Buddy's adventures.
Download Autism & PDD Comparatives/Superlatives Lite on iOS
2. I Create… Social Skills Stories — Lets You Create Stories That Show Different Social Situations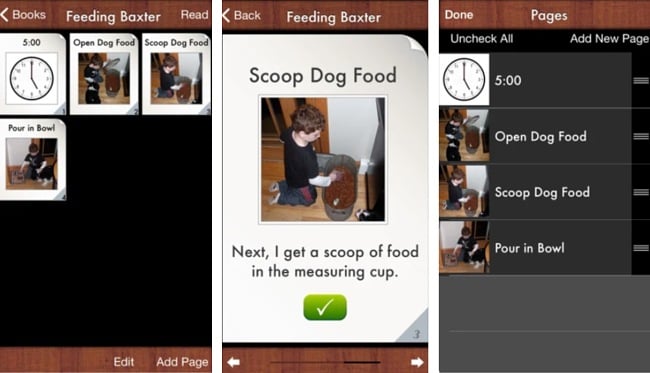 I Create… Social Skills Stories lets you build fully customizable storylines that teach your children how to build social skills. I could easily upload my own images and add text or even audio to design a story about my daily routine. The app also let me rearrange and hide existing story sequences which is perfect if your kid's routine changes and you want to adjust your profile. Aside from looking at daily routines, you can use the app to explain to your children situations that could upset them, like going on holiday or moving. This may help put kids with autism at ease and let them understand changes before they happen.
Download I Create… Social Skills Stories on iOS
3. ABA Flash Cards & Games: Emotions — Enables Kids to Recognize Feelings By Matching Images
ABA Flash Cards & Games offers over 100 emotions displayed on 500+ flashcards and multiple games your child can play to identify feelings. Apart from learning how to differentiate between them, your kids will also learn how to respond when they feel overwhelmed with emotions. Though the choice of existing cards is quite large, you have the option to add custom ones and even record your own voice over them. As each child has unique learning needs, you can also adjust the speed of the 12 available game modes and even change the app interface to make it easier to use.
Download ABA Flash Cards & Games: Emotions on iOS
4. Proloquo2Go — Teaches Core Words to Help Kids With Autism Communicate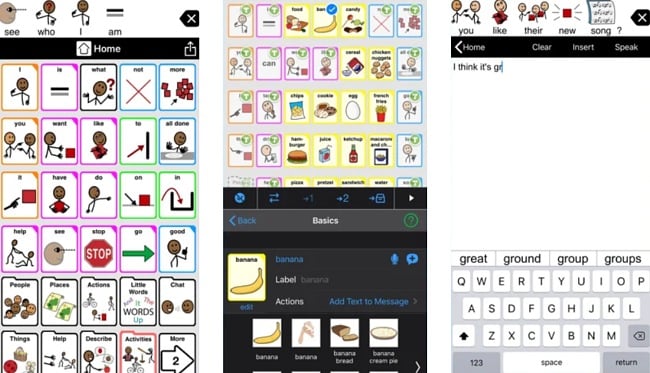 Prologuo2Go is an Augmentative and Alternative Communication (AAC) app that facilitates daily communication for children and young people with autism who struggle to talk. Developed in cooperation with specialists, the app's innovative features aid kids on their communication journey, even if they begin as non-verbal users. The research carried out by the app developers suggests that people need only 200-400 words to communicate, so you'll start with learning the core words using symbols. After learning these words, your child will be able to discover full sentences and expand their vocabulary to up to 10,000 words!
5. QuestionIt — Explains How Different WH-Questions Work With Color-Coded Cards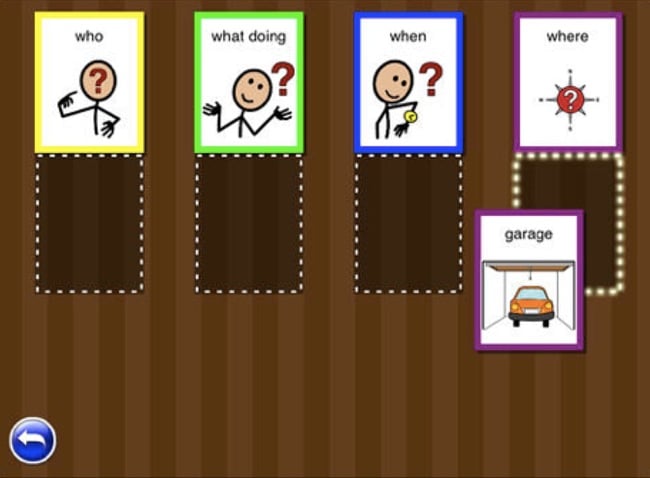 While many children often find "What? Where? Why? Who?" questions difficult to understand, they can be even trickier to learn for kids with autism. That's because to ask these questions, you must first grasp their context which requires social and pragmatic understanding. QuestionIt focuses on teaching children language concepts through sorting and matching questions with a correct answer. Using familiar words and illustrations, QuestionIt provides color clues to make it easier for young users to match the right pictures. Your child will be rewarded for correct answers with on-screen fireworks. As kids progress, you can also fade the color cues to fit required learning needs.
QuestionIt also features a built-in data manager that saves your child's scores and generates report cards you receive by email. You can then use them as a guide to adjust the settings within the app appropriately to your child's improvements.
6. Daniel Tiger Grr-ific Feelings — Develops Emotional Intelligence With Games and Songs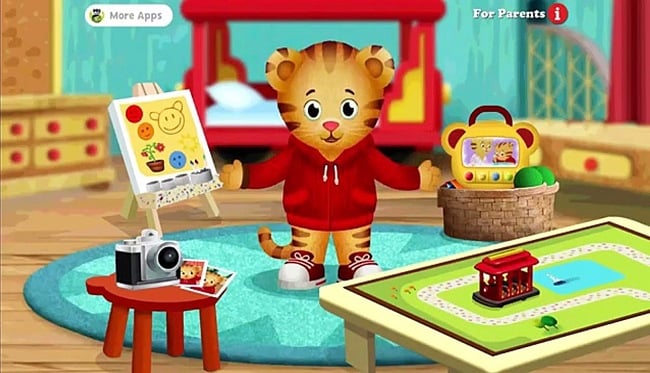 Aside from teaching little viewers how feelings work in a hit TV show, Daniel Tiger can also help your children on their mobile devices. The PBS app provides an engaging learning environment that highlights different emotions. Your child will use Daniel's Trolley Game to drive the iconic red trolley and play multiple mini-games with Daniel and his neighbors. The games not only help identify feelings but also introduce kids to coping tools, like calming breathing exercises. My favorite part was the sing-along mode where children can perform "grr-ific" songs to assimilate new knowledge in a fun way. The songs are so catchy I found myself humming them days later!
Download Daniel Tiger Grr-ific Feelings on iOS or Android
Apps for Kids With Autism Worth Downloading on Android Devices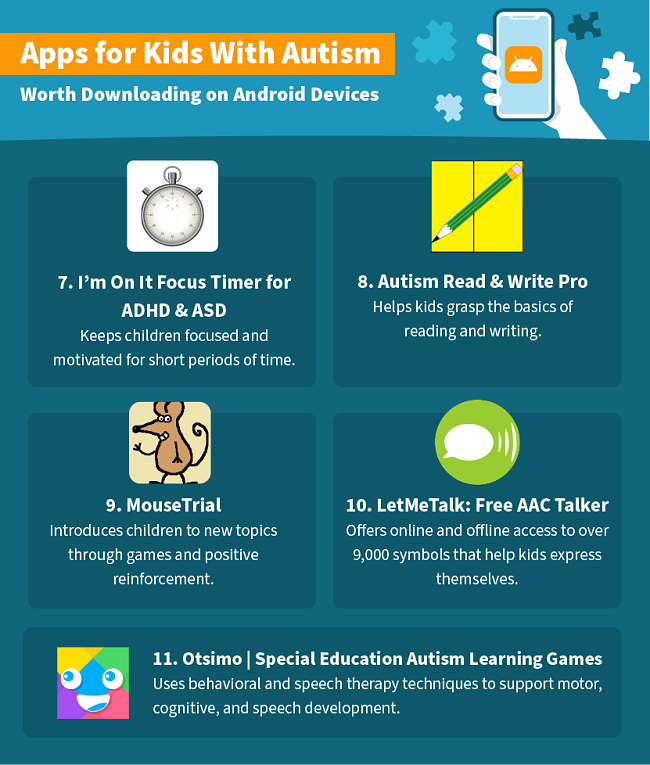 7. I'm On It Focus Timer for ADHD & ASD — Minimizes Distractions to Keep Children Focused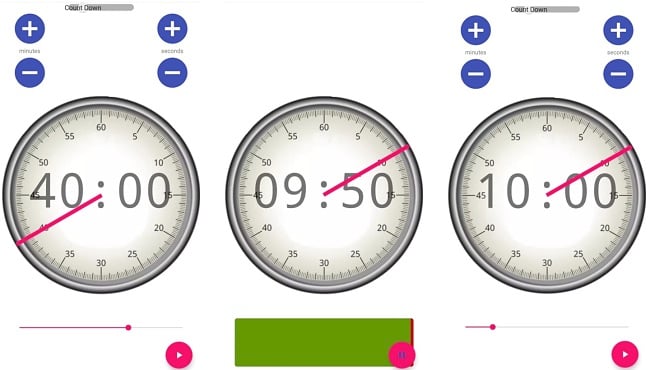 While it doesn't provide any games, I'm On It is a timer app that will help keep your child focused for a set period of time. But it's not just any simple timer — created specifically for children with learning difficulties, the app can be set to send regular reminders to minimize distractions. Even as a neurotypical adult, I found the app super useful as I could break my timer into shorter chunks to allow for breaks to keep me on track for long tasks.
To make it more entertaining, I'm On It gamified the experience letting you "level up" when you complete timers without getting distracted. The levels describe the reminder intervals which you can adjust according to your child's needs from 30 seconds to 30 minutes. Once your child masters a level, they can move up and the reminders will appear less frequently. This creates a fun challenge by making a mundane task a competitive experience young users can benefit from long-term.
Download I'm On It Focus Timer for ADHD & ASD on Android
8. Autism Read & Write Pro — Uses Everyday Objects to Introduce Kids to the Basics of Literacy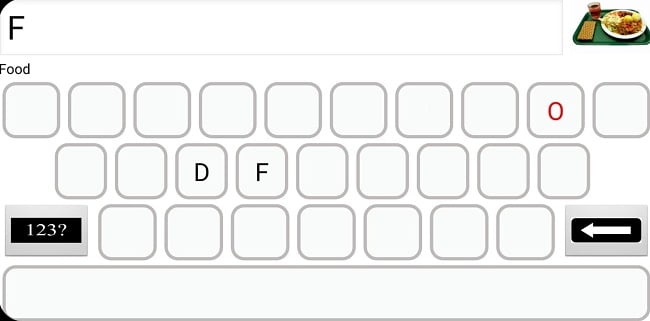 Autism Read & Write Pro is an app created to help autistic kids grasp the basics of reading and writing. Available lessons vary in complexity, so you'll find the app useful even if your kids are more advanced. Each lesson provides writing and reading exercises that include items children come across every day at home, school, and other places. This helps them link their new skills to their offline routines which facilitates continuous learning and discovery even when they don't use the app. I particularly liked that I could also adjust the settings manually to fully match my desired learning speed and make the most of the lessons.
Download Autism Read & Write Pro on Android
9. MouseTrial — Features a Friendly Mouse to Walk Kids Through Various Learning Concepts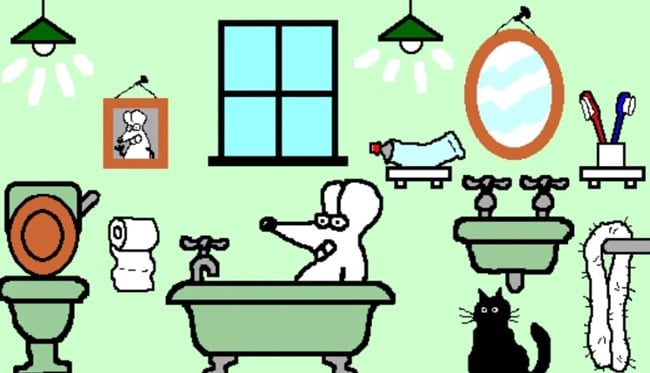 Based on the Discrete Trial Training, MouseTrial is perfect for children with learning difficulties as it provides an encouraging learning environment. The slow-paced game modes and simple sounds facilitate a gentle introduction to new topics ranging from food and household objects to numbers and the alphabet. I found myself fully enjoying every game — and there are 48 to choose from! The games are led by a fun cartoon mouse that keeps your kids engaged with over 300 stimulating questions and animations. This is perfect for increasing your children's concentration and recognition skills without them realizing they're learning in the first place.
Download Mouse Trial on Android
10. LetMeTalk: Free AAC Talker — Enables Communication Through Symbols and Voice Support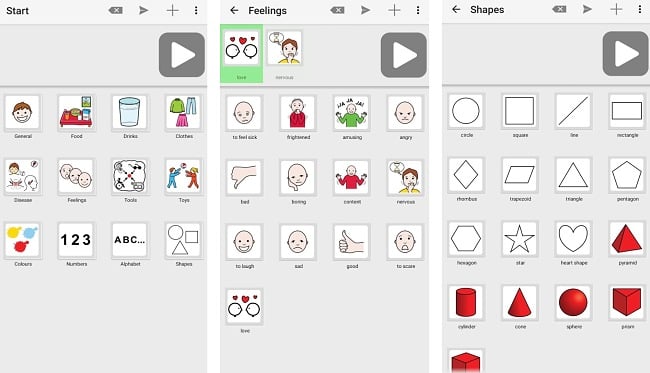 LetMeTalk is a straightforward communication tool that helps kids on the spectrum express themselves with the use of symbols. The app comes with over 9,000 images in its library to help teach your child with a large vocabulary — so they'll always be able to express themselves freely. I could also enable voice support which read every image I selected out loud which is great for users who can't speak but understand how language works. The app features an offline mode so I was even able to use it in offline environments, like the park, shops, and school. Better yet, LetMeTalk supports multiple languages, such as French, Spanish, German, and Russian, so you're not restricted to English-only phrases!
Download LetMeTalk: Free AAC Talker on Android
11. Otsimo — Supports Motor, Cognitive, and Communication Development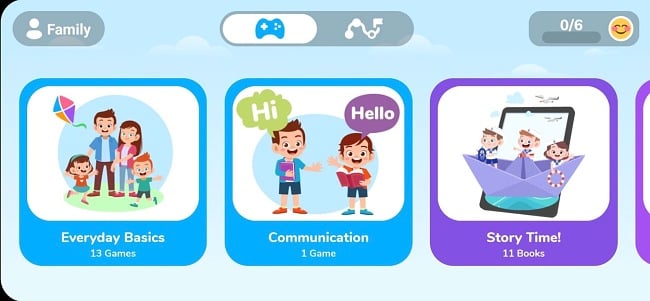 Unlike many other autism apps I tried, Otsimo offers over 100 games developed alongside special needs educators and parents. The games incorporate behavioral and speech therapy techniques to support motor, cognitive, and communication development. Your child can choose from 10 learning categories, such as "Core Skills", "Reading & Writing", "Puzzles", and "Household Goods". Each game features gentle illustrations that don't overstimulate sensitive brains and maximize the learning opportunities. Additionally, Otsimo is completely ad-free, so you'll never have to worry about your children seeing inappropriate content.
I liked that the app creates a personalized curriculum for each child based on your kid's needs. The curriculum outlines the learning path, including which games your child should play to build up on existing skills and how much time they should spend learning. This lets you make the most of your kid's screen time and their learning abilities.
Top Apps for Kids on the Spectrum on the Apple Store and Google Play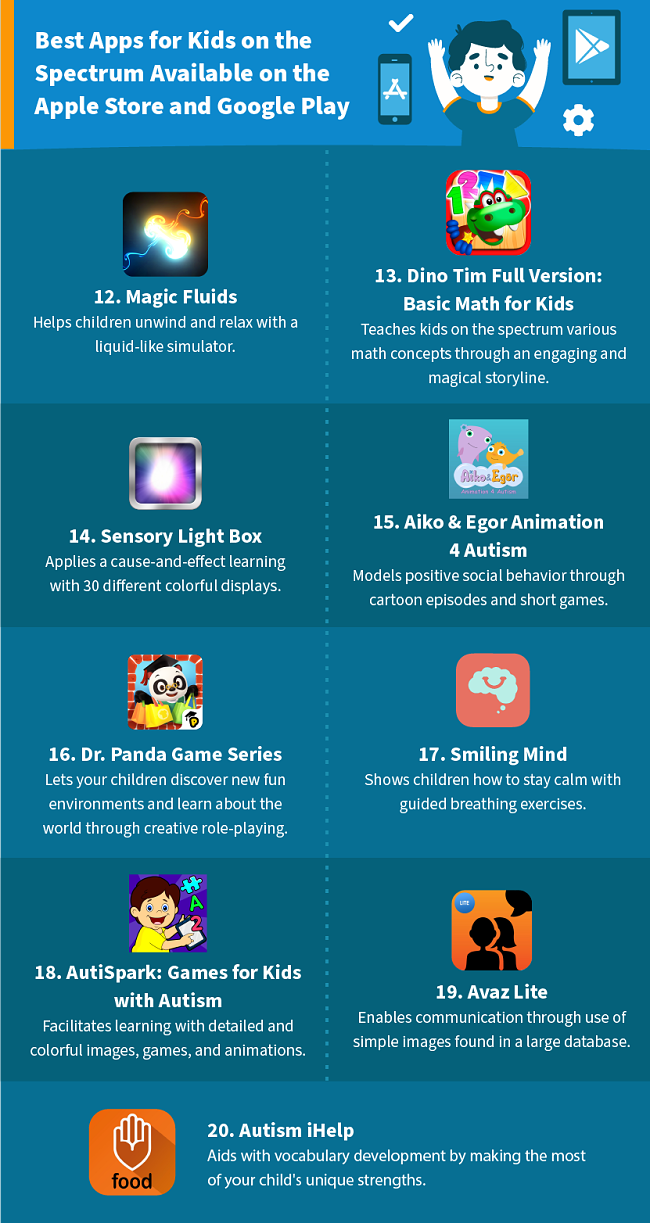 12. Magic Fluids — Lets Your Child Relax With Colorful On-Screen Visuals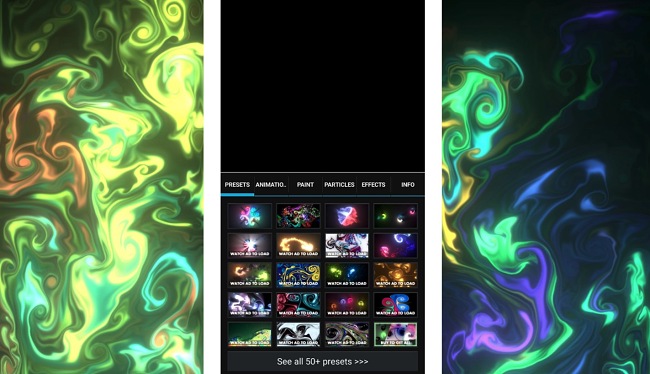 Though it's not specifically designed for children on the spectrum, Magic Fluids helps kids unwind with an interactive liquid-like simulator. Choose from colorful smoke, slime, or water, and let your child watch the visuals change depending on how they manipulate the screen. I was fully immersed in the creative process, alternating between fast and slow swipes that helped me create beautiful displays. As it doesn't require specific skills or extensive thinking, your child will be able to relax while discovering basic movement physics. Magic Fluids also makes a great addition to bedtime as it facilitates slow meditation that helps kids fall asleep.
Download Magic Fluids on iOS or Android
13. Dino Tim Full Version: Basic Math for Kids — Follows a Storyline to Encourage Kids to Learn Math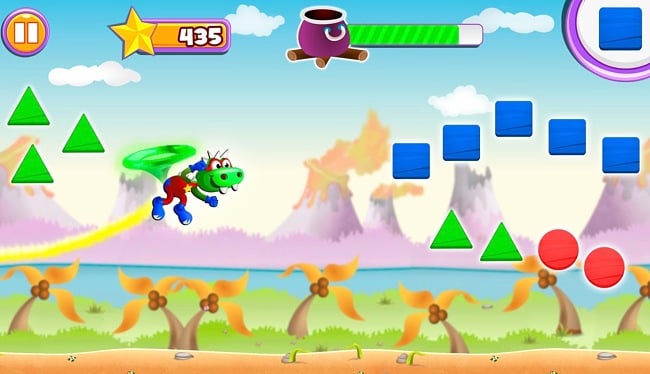 Dino Tim is an adventure game that teaches kids with autism about Math while building on literacy and cognitive development. Your child will become part of a fun story as a hero who rescues Tim's family from a group of funny witches. The plot can progress after completing puzzle games that vary in difficulty. The game starts with an "Easy Mode" that explores basic math, such as counting and shapes. Once completed, kids can move on to the "Normal Mode" that adds more complicated concepts, like addition and multiplication. For a bigger challenge, I could switch the app's language to learn Spanish, French, or Italian. This makes Dino Tim versatile for kids at any age.
Download Dino Tim Full Version: Basic Math for Kids on iOS or Android
14. Sensory Light Box — Encourages Cause-and-Effect Learning With 30 Engaging Displays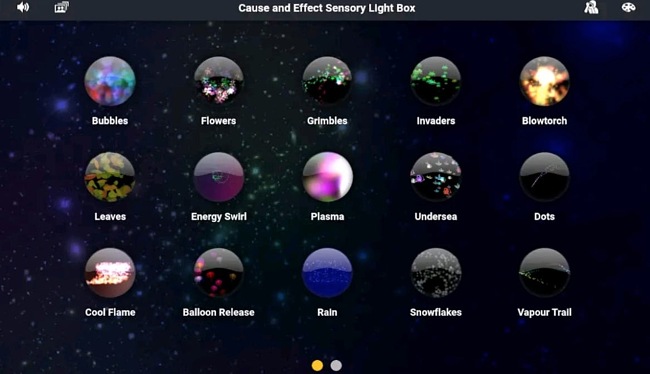 Originally created for teenagers on the spectrum, Sensory Light Box is appropriate for kids with special learning needs of any age. The app applies cause-and-effect learning that shows children the effects of their movements with soothing interactive displays. When you open the app, you'll be able to choose from 30 different displays, such as "Stars", "Glow Worm", and "Volcano". Once selected, the app displays a completely dark screen your children can light up with a single touch or swipe. The patterns follow their fingers while making sounds that range from raindrops to explosions. Though the app may seem simple, its immersive design will occupy busy young minds and help them relax.
Download Sensory Light Box on iOS or Android
15. Aiko & Egor Animation 4 Autism — Uses 2 Underwater Creatures to Explore Social Interactions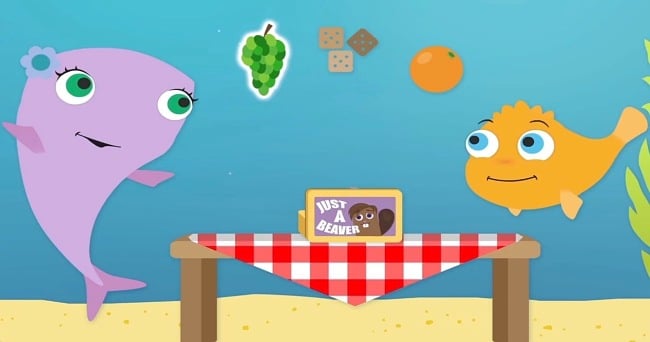 Aiko & Egor Animation 4 Autism features 2 underwater creatures that model positive social behaviors with short cartoon episodes. Aiko and Egor interact with each other through activities that resemble what your child does every day. The easy-to-follow animations also include games that keep your child focused at all times. The activities include finger tracing, matching, puzzles, and more, and they always follow the theme of each episode.
Though the app is designed to be used with a parent or a teacher, older children will have no problem navigating its simple interface on their own. Alternatively, you can select a "Learn Together" mode to explore more complicated concepts, like answering questions and matching pairs, together. That way, you can offer additional explanations while spending quality time with your child.
Download Aiko & Egor Animation 4 Autism on iOS or Android
16. Dr. Panda Game Series — Maximizes Imagination Through Role-Play Games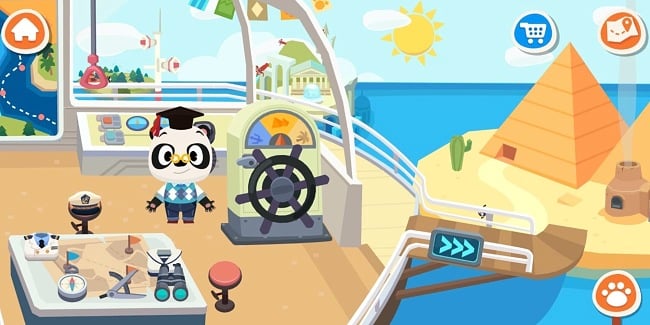 Dr. Panda is a series of interactive games in which your child takes on different roles to learn about the world and social interaction. The series sees Dr. Panda turn into a doctor, beautician, firefighter, astronaut, and many other types of professionals. Each part in the series comes with over 11 mini-games that follow easy scenarios your child is familiar with. Each screen lets your child discover something brand new and unleash all of their creativity in picking outfits, tending to a garden, and more. It's a fun experience for the whole family as the likeable in-game characters entertain everyone involved.
Download Dr. Panda Game Series on iOS or Android
17. Smiling Mind — Shows Children How to Stay Calm With Guided Breathing Exercises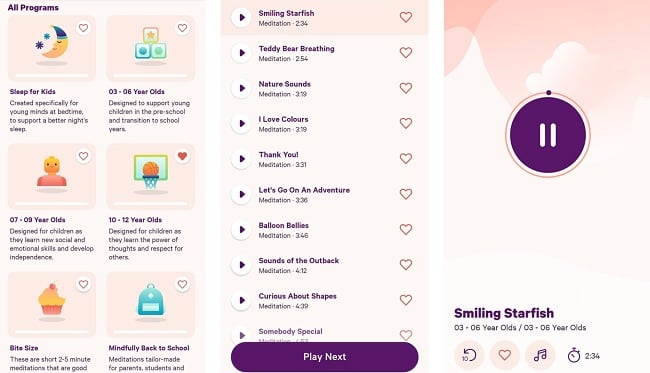 According to a study carried out by Rutgers University, practicing mindfulness is associated with reductions in stress and aggression and improved emotional awareness. This is especially helpful for kids on the spectrum as they may be prone to feeling anxious or overwhelmed. Smiling Mind is a meditation app that teaches breathing exercises to aid kids, teenagers, and adults in staying calm throughout the day. The app stores hours of guided meditation lessons that last 2-10 minutes — all you need is a set of headphones to get started. Through regular practice, this app may be able to help your child to begin to recognize emotions and use the coping techniques to deal with them.
Download Smiling Mind on iOS or Android
18. AutiSpark: Games for Kids with Autism — Facilitates Learning With Games and Animations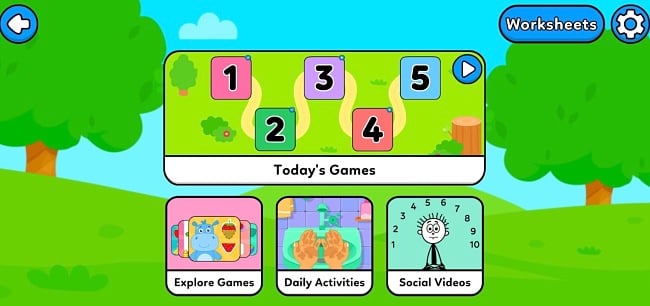 Developed with therapists and specialists, AutiSpark is an award-winning app that considers a range of needs of kids with autism. The app focuses on visual learning facilitated by positive reinforcement to keep users engrossed with detailed images and animations. Your child can choose from hundreds of games in multiple categories, such as Daily Living Activities, Negation Concept, Eye Direction, Matching Games, and Flash Cards. They then participate in activities designed to develop their skills in reading, writing, math, and more.
Your child's learning doesn't stop once their screen time comes to an end as AutiSpark lets you print worksheets to use offline. These exercises reinforce new information to ensure your child can move forward with their learning.
Download AutiSpark: Games for Kids with Autism on iOS or Android
19. Autism iHelp — Provides Customized Language Lessons Based on Your Child's Interests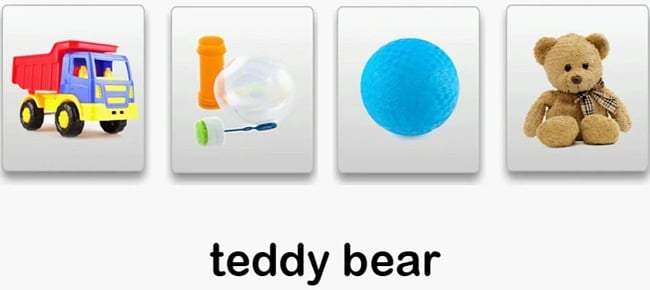 Autism iHelp aids with vocabulary development using several language intervention methods that build on your children's unique strengths. The app includes 72 images of real-life objects sorted into categories based on their color. Your child will browse through the photos to distinguish between the items and learn about categorization boundaries. Additionally, you can access 2 Learning Enhancement games to test how much your children understood from the flashcards and turn the new information into long-term memory. Once your child completes the games 3 times, the app will let you download a report to track their progress as well.
Download Autism iHelp on iOS or Android
20. Avaz Lite — Offers a Large Picture Library Children Use to String Sentences Together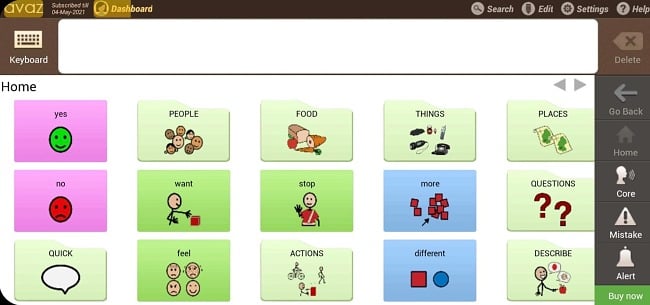 Based on extensive research in speech therapy, Avaz Lite offers a large vocabulary database that teaches children how to talk through the use of images. The pictures are sorted into groups that range from life skills and food to school, social situations, and emotions. You can even customize the app to include specific topics your kids are interested in, like superheroes, princesses, cars, and more. The app is also equipped with a high-quality AI voice that reads new words and encourages children to repeat them.
I was impressed that Avaz Lite isn't just for learning new vocabulary — it also comes with a picture-based keyboard your child uses to fill in gaps in sentences. That way, they can develop a basic understanding of grammatical structures and deepen their speech knowledge. It also makes it easier for them to communicate their needs at home, school, and other places where they may not be understood straight away.
Download Avaz Lite on iOS or Android
5 Apps for Supporting Parents of Autistic Children on iOS and Android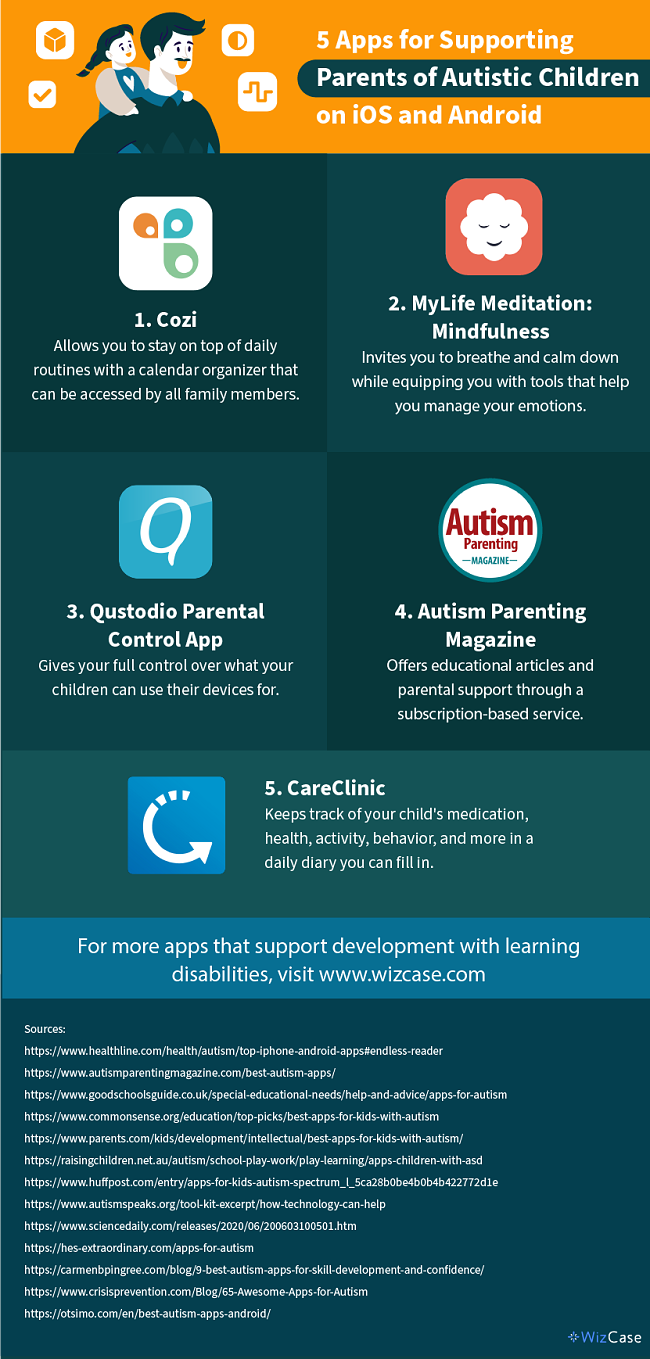 1. Cozi — Organizes Your Family Commitments With a Color-Coded Calendar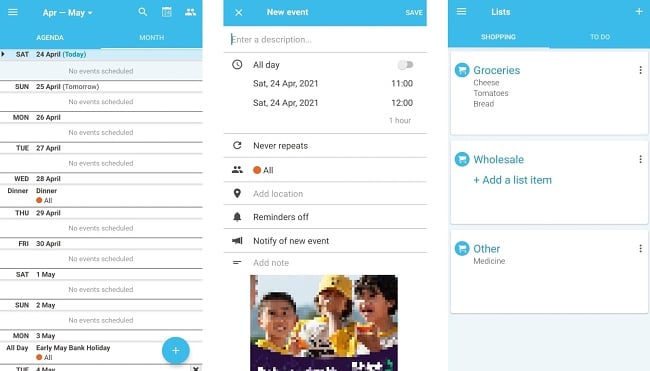 Keeping your family organized is a challenge in itself, but it's even more difficult when you have to remember your child's medical appointments, therapy sessions, and other commitments. With Cozi, you'll be able to stay on top of everyone's activities with just one glance. After assigning colors to each family member, you can set up their schedules on an easy-to-navigate calendar. The app also lets you share the diary with others so everyone can see what they have to do on certain days.
What makes Cozi a great choice for parents of kids on the spectrum is its shared family journal. This gives you a free space to record new accomplishments, successes, and the development of your child to create special memories you can look back on in the future.
Download Cozi on iOS or Android
2. MyLife Meditation: Mindfulness — Invites You to Take a Break With Breathing Exercises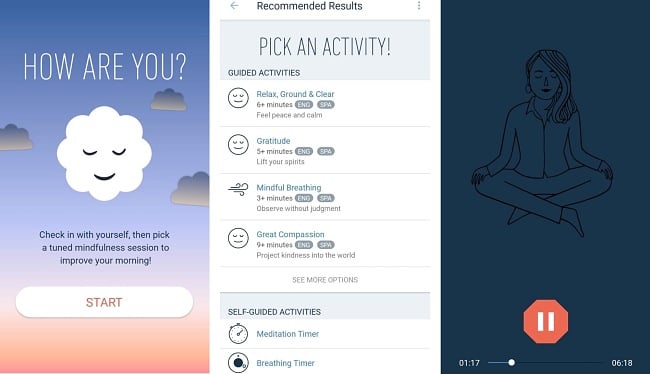 It can be tough to stay calm during stressful situations which is why I found MyLife Meditation so helpful. MyLife Meditation: Mindfulness app taught me practical breathing techniques I use in my daily life. Through calm guided practice, you'll be asked to practice staying in the current moment to calm heightened emotions. So while your children are enjoying their screen time, you can take 3 minutes to just breathe. That way, you may find yourself more ready to tackle the rest of the day.
Download MyLife Meditation: Mindfulness on iOS or Android
3. Qustodio Parental Control App — Lets You Control How Your Children Use Technology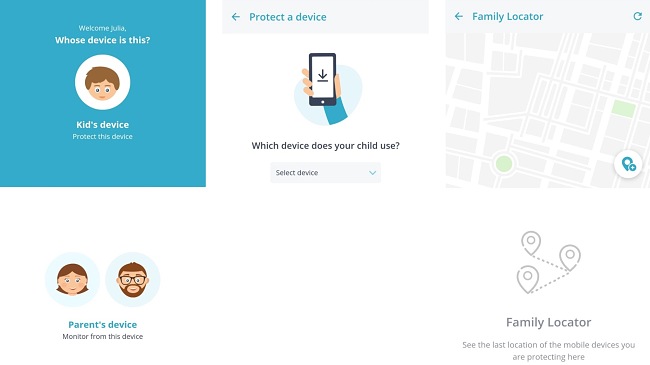 Using technology may put children in many dangerous situations (like cyberbullying), so it's crucial to implement parental controls and protect vulnerable users. Qustodio gives you full control over what apps your child can use, the time of the day they can be on their devices, and for how long. Though you have to download the app on all of your child's devices, only you will be able to access the dashboard with your login details. Qustodio also records your child's activity and sends you regular reports through emails.
Qustodio is available across various operating systems — but its Android version comes with additional features, like a panic button and call monitoring. These are not necessary to protect your children online, but I found them to be a nice touch which gave me extra peace of mind.
Download Qustodio Parental Control App on iOS or Android
4. Autism Parenting Magazine — Provides Specialist Advice and Support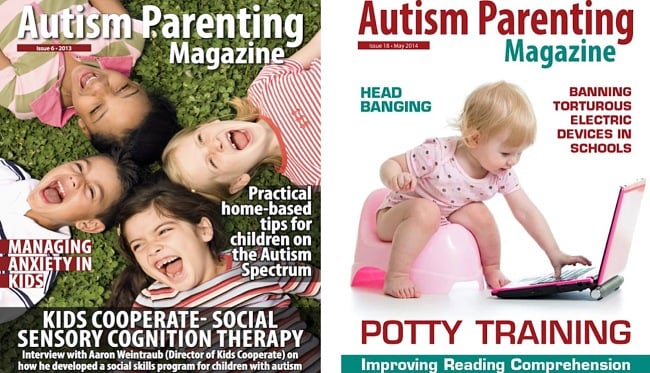 With over 73,000 regular readers, Autism Parenting Magazine is one of the most popular subscription-based magazine apps that offers educational articles and parent support. I found that Autism Parenting Magazine is much more than a virtual newspaper — it's a welcoming community to support your journey. It's a great choice for keeping up with the latest research on autism or seeking professional help, and you can also chat with like-minded people facing the same obstacles. The app is filled with parents sharing their real-life struggles as well as adults on the spectrum keeping you inspired with their stories of hope.
Download Autism Parenting Magazine on iOS or Android
5. CareClinic — Keeps Track of Your Child's Routine and Medical Needs With a Daily Diary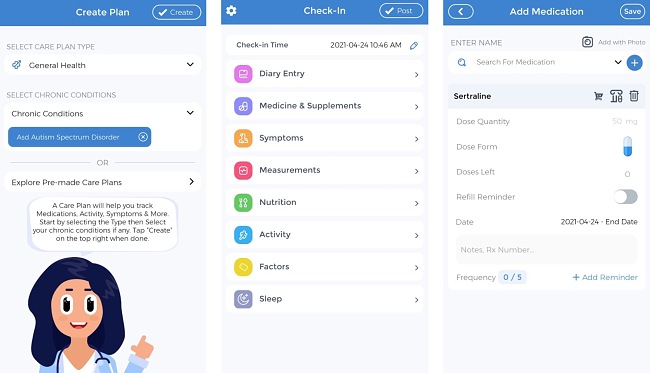 CareClinic makes caring for a child with autism a lot easier as it offers a daily diary where you can input notes about your child's medication, health issues, and more. Aside from regular monitoring, CareClinic also lets you set goals for your child's activity, mood, and health. This function conveniently lets you track your progress over time. Your CareClinic data can also be shared with a team of specialists you're in regular contact with, like speech therapists, psychologists, doctors, and more.
Download CareClinic on iOS or Android
Support Your Children's Development With Apps That Focus On Their Needs
Kids with autism can benefit from assistive technology as it encourages independence, helps form social relationships, enables communication, and more. You can utilize it by downloading mobile apps that will empower your children and provide them with a fun and engaging learning environment.
However, many apps available today were developed by people who don't know much about learning disorders, so you need to beware of which apps you let your children use. The above list is a great place to start and learn more about what a useful autism app looks like. Though not all of them are free, I found the benefits they provide outweigh their subscription price. Most of the apps will also let you test their services at no cost to you with a trial — so you can make sure they're really worth it!
Source: https://www.wizcase.com/blog/best-autism-apps-for-kids/